Standing Behind the A-TEMP Signature Install
At A-TEMP Heating, Cooling & Electrical, we guarantee your 100% satisfaction. From our heating and air conditioning maintenance, repairs, and new installations to our electrical upgrades and other services, our technicians will get the job done right every time. Additionally, all our products including heating and air conditioning units and replacement components come from industry-leading manufacturers, ensuring quality and reliability. In the unlikely event that our work or product turns out to be subpar, you can rest easy knowing that we will do everything in our power to make it right. Our company offers several guarantees to satisfy you and give you peace of mind.
Check our our guarantees below. To request a service, contact our Portland heating, AC, and electrical service company at (503) 694-3396!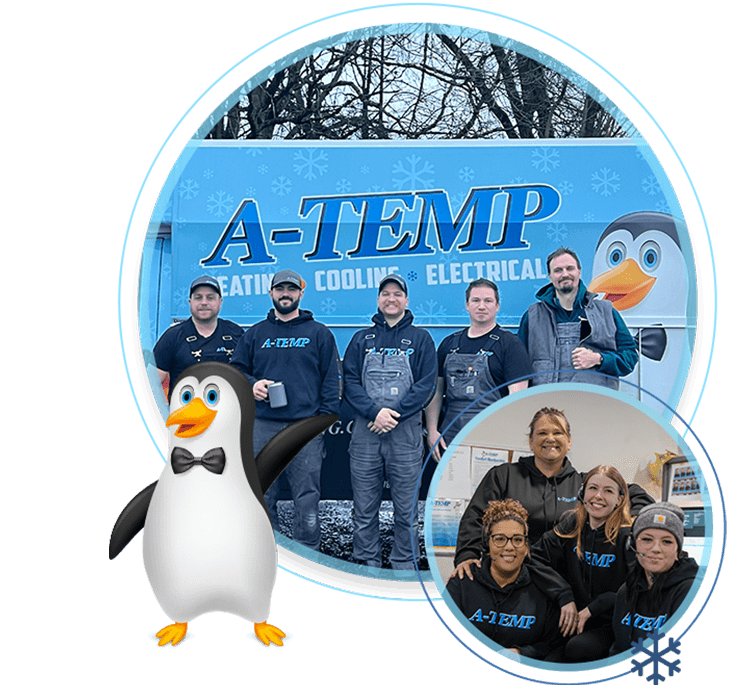 Standing Behind Our Heating, Cooling, & Electrical Installations
"APPLES TO APPLES" GUARANTEE

Anyone can make something cheaper by cutting corners and pricing it for less. We guarantee that you won't find a comparable installation for less. If you find a company that beats our price and offers everything our company does, we'll pay you $50 over the difference. All we ask is that the comparison be "apples to apples."

NO SURPRISES GUARANTEE

We guarantee that the price we quoted is the price that you will pay. If we make a mistake and miss something, it will be our mistake – not yours. Excludes existing electrical work, ductwork, and HVAC equipment..

PROPERTY PROTECTION GUARANTEE

We will respect your home as if it were our own. All property such as lawns, shrubbery, carpeting, floors, walls, furniture and door frames are protected. Damaged property will be replaced or repaired. Protective shoe covers and hall runners will be used on all work and traffic areas.

"NO LEMONS" GUARANTEE

If the compressor in your air conditioner or heat pump fails twice in the first five years, we will install a complete and new outside unit. If the heat exchanger in your furnace fails in the first ten years, we will install a new furnace. Requires manufacture's recommended annual maintenance performed by A-TEMP.

PERFORMANCE GUARANTEE

We guarantee that the furnace we have installed in your home will provide at least 70° at the thermostat on an 18° day, and the air conditioner or heat pump will provide 75° at the thermostat on a 95° day. If the temperature range we have promised is not achieved, we will repair or replace the equipment at no charge.

COMFORT GUARANTEE

If the new equipment fails due to a mechanical problem and leaves you without heating or cooling for more than 24 hours from the time you notify us, we will repair your new equipment for free and send you a $500 check for your inconvenience. This guarantee is extendable to the second year with enrollment in our Comfort Club membership.

NO RISK, 100% SATISFACTION GUARANTEE

Our team takes pride in providing our valued clients with the care they deserve with every service we do. A-TEMP guarantees that you will be 100% satisfied with our product and installation. That is why we provide a "NO RISK, 100% SATISFACTION GUARANTEE" for a full 12 months. If you are not 100% satisfied with the new heating and cooling equipment that we installed within the past 12 months, we will give you a full refund and remove our equipment within 30 days.
Why Trust Us For Your Family?
Here's What You Can Expect from the A-TEMP Team
We Work Hard to Exceed Expectations

We Believe in Treating People Right

We Have Decades of Experience 5-Star Rated
We Put Our Customers First
"Call them. You won't be disappointed."

- Sara T.

"Great work!"

- Dave & Anne (the meatball guy)

"GREAT JOB WYLIE!!! (and A-Temp too)"

- Pat

"I regard Lee as a valuable representative of your company."

- Bob T.

"They are an excellent team"

- Marolyn H

"Great work"

- Bobby Rudolph Ready To Get Started?
Reach Out To Our Family-Friendly Team Today!